Tennis Courts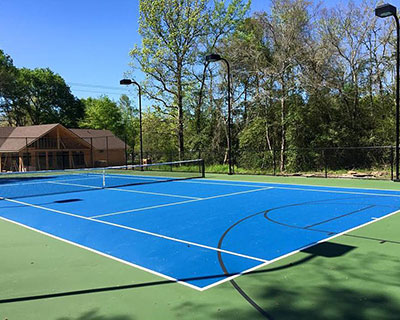 Tennis is an engaging game, suitable for people of all ages. It's a good way to exercise and enjoy the activity at the same time. Well-designed tennis courts can last for years while being versatile enough to be used for other games. For example, you can play volleyball, badminton, and even install a net to play basketball.

At Athletic Design Group, we have handled several tennis court installations in The Woodlands, Houston, Katy, Sugarland, and Friendswood. Our team has installed resilient tennis courts in Pearland, Spring, Richmond, Tomball, and Cypress as well. If you want a good quality court that can withstand a lot of wear, we can help.
Factors We Consider While Building Courts
Tennis court construction requires careful planning and execution. Well-made surfaces last up to 20-30 years, especially if they're maintained well. These installations are much more complex than they first appear which is why it's necessary to hire a professional for this job. Here are some factors involved in the process:
Location - Tennis courts need to be flat and level, so it's important to choose the right location for the surface. It's easier to build a court on a relatively flat surface as we don't need level the surface as much. Building a court on sloping terrain requires earth movement, excavation, or retaining walls.
Asphalt Surfaces - Asphalt courts is relatively affordable, they don't require as much time and effort to install as concrete ones. It's a good option for residential courts, especially if you're on a budget or your property is in a convenient location. If we can't bring asphalt laying equipment to your property, concrete might be your only option.
Concrete Surfaces - Concrete is the better and more expensive alternative to asphalt. With proper maintenance, you can expect this surface to last for more than 30 years. We have experience with concrete tennis court installation so our team will make sure the surface is sturdy. This can be installed in any location and is suitable for residential or commercial courts.
Cushion Vs Hardcourt - Tennis surfaces need to have a layer of shock absorption material. We can apply cushion surfaces based on your requirements. Regular liquid cushion surfaces are suitable for residential applications. They are 2mm thick and offer good shock absorption or around 2%-5%. This surface doesn't last long so you will need to replace it every few years. Premium cushion surfaces have 5mm to 8mm of thickness and offer 16%-23% shock absorption, suitable for professional tennis courts.
Acrylic Surfaces - Standard surfaces are suitable for residential applications. They are more affordable, can withstand 3-5 years of wear and come with 1 year of warranty. Premium surfaces are more expensive, have a 5-year warranty, and can last for nearly 8-12 years with proper maintenance.
As experienced tennis court installation contractors, we know how to plan, design, and install good quality surfaces that can handle all levels of wear. If you need a resilient court, we are the right choice for you. Want to know more about our basketball court building services here at Athletic Design Group? Just give us a call at 281-456-2477 or contact us through our online form.
We Provide Services to the Following Cities, Towns and Surrounding Regions of TX: