Indoor Surfacing / Gymnasiums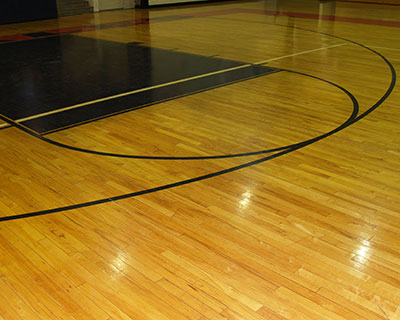 We can't always play sports in outdoor environments. Sometimes weather conditions require people to stay indoors. Excessive heat, rain, and cold make it difficult for people to practice or exercise outside. Fortunately, indoor gyms are a good alternative for that. At Athletic Design Group, we have worked with several establishments in Houston, Friendswood, The Woodlands, Sugarland, and Katy, installing good quality indoor gym flooring.

Our team has worked on both residential and commercial projects in Spring, Tomball, Pearland, Cypress, and Richmond. We understand the requirements of different clients so offer tailored solutions.
Different Gyms, Different Requirements
The design, quality, flooring material, size of indoor surfacing depends on the purpose of the gym. We offer custom solutions based on a client's needs. We have worked on several private and public projects, including:
School and college gyms
Recreational centers
Private home gyms
Commercial gymnasiums
Office/corporate indoor workout centers
Exercise centers in hotels and resorts
Dance studios
Our team will consider all requirements; look at the architecture and space available before providing tailored solutions. You can discuss your options during a consultation, which can help you make the best decisions.
Types of Floors
We offer several indoor athletic flooring options. Our experts will explain all the pros and cons of every material so you have all the information you need. Here's a brief introduction to popular gymnasium flooring materials:
Athletic Wood Flooring - Wood floors are resilient, durable, and strong, but they require a lot of maintenance. Once installed, you can expect flooring to last for decades. Wood gym floors are suitable for basketball and volleyball.
Modular Tiles - Modular floors are ideal for people on a budget. The tiles are light-weight, easy to install, attractive, and can handle a considerable amount of wear. These are usually available with interlocking properties so they just snap into place during installation. The tiles are available in different colors, textures, finishes, etc., which allows us to create a custom floor.
Sport Vinyl Flooring - Vinyl has become one of the most popular flooring options for gyms and indoor sports establishments. It's affordable, durable, while lasting for a long time in different conditions. It's also hygienic, resistant to abrasion, stable, and easy to maintain.
Rubber Flooring - Rubber floorings provide a more cushioned surface, suitable for weight training. It's easier on the knees and has the ability to bear a good amount of load. Rubber also provides traction so people don't slip or fall during their workout.
Synthetic Flooring - This flooring material is a good replacement for traditional wood. It's more affordable, easier to maintain, while being durable as well. The slide and bounce is similar to wood floors, which makes it a good choice for basketball or volleyball courts. They are also shock absorbent, which can reduce stress on a player's body.
Want to know more about our batting cage installation services here at Athletic Design Group? Just give us a call at 281-456-2477 or contact us through our online form.
We Provide Services to the Following Cities, Towns and Surrounding Regions of TX: