Services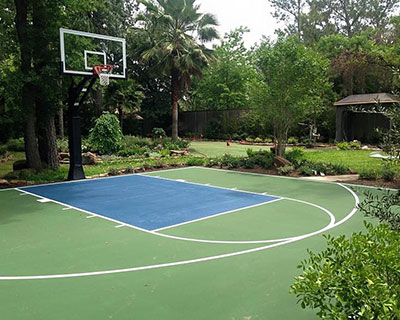 At Athletic Design Group, we offer a wide range of services of clients in Friendswood, The Woodlands, Houston, Sugarland, Katy and the surrounding areas. We have developed expert skill in large-scale projects. Our company has worked on both residential and commercial projects in locations like Richmond, Cypress, Spring, Pearland, and Tomball. If you're looking for a well-trained team capable of handling small-scale or large-scale projects, give us a call. Here's a look at our services:


1. Basketball Courts
Basketball courts are a great addition to any property, especially if you want to promote physical activity or athleticism. This surface comes in different sizes, including the standard full-court and half-court ones. The latter is more commonly used in residential properties; clients in this category usually have less space and budget. We can construct it with either concrete or asphalt material, both of which require some time and effort to install. Concrete surfaces are more durable but are expensive. Asphalt ones don't last as long but are affordable. Read More About Basketball Courts >>
2. Tennis Courts
Tennis is a popular game so the courts are in demand. We have installed several in both residential and commercial properties over the years so our teams know how to install a good surface. Professionals make most tennis courts from asphalt or concrete, based on your requirements and budget. Asphalt is more affordable, but it can cause problems as this material has a shorter lifespan. Concrete is durable and easier to maintain, which makes it a better long-term investment. We handle everything from court installation to resurfacing. Read More About Tennis Courts >>
3. Game Courts
Game courts are some of the most versatile and flexible sports surfaces available today. They're customizable, smaller than usual full-sized courts, and affordable. You can play up to 15 games on one court based on its design. That's one reason why many residential property owners prefer this to traditional full-sized or even a half-court. We design a game court carefully based on your requirements before carrying out the installation process. If you're uncertain about what kind of surface you should get, this one is a good option. Read More About Game Courts >>
4. Indoor Surfacing/Gymnasiums
Surfacing is an important component of all indoor gym spaces. There are different flooring included in this category, suitable for different purposes. We have installed gym flooring in dance studios, exercise gyms, basketball, volleyball or tennis courts, and other such spaces. We can make this flooring from materials like wood, vinyl, synthetic, modular tiles, rubber, etc. Every material has its pros and cons so it's important to choose wisely. For example, rubber floors are ideal for gymnasiums but not for basketball courts. Our experts will help you choose the best option. Read More About Indoor Surfacing/Gymnasiums >>
5. Sand Volleyball Courts
Sand volleyball is a great deal of fun, especially during a pleasant day. A good sand court only enhances this enjoyment, which is why we build it carefully. Our experts understand how sand courts work and how to make them durable. They will handle everything from excavation to adding sand. We will make sure your court has proper drainage, is build according to regulations, and will last for a long time. Our team will also install accessories like nets, stands, poles, pole safety pads, and everything else needed. Read More About Sand Volleyball Courts >>
With more than twenty years of experience in athletic court and facility construction, if you can play a sport on it, we have probably built it. At Athletic Design Group, we take pride in each of our custom projects.
Design/Build
Basketball Courts
Multi-Sport Courts
Tennis Courts
Volleyball Courts
Sand Volleyball Courts
Tracks
Gymnasiums
Training Centers
Resurface/Remodel
Acrylic Resurfacing
Tile Resurfacing
Sports Components
Sports Lighting
Court Conversions
Containment Nets
Line Painting/Striping
Driveway Courts
We Provide Services to the Following Cities, Towns and Surrounding Regions of TX: