Sand Volleyball Courts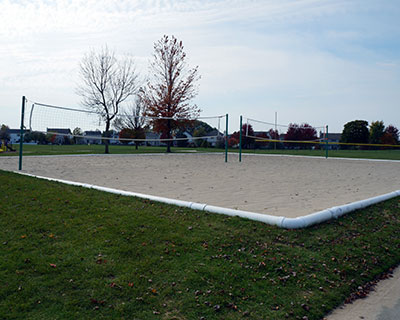 Playing volleyball on a sand court is a great deal of fun. Its good cardiovascular exercise, helps improve flexibility, and lets players socialize in a competitive environment. That's why this game is very popular, especially with young groups. Sand makes this game more challenging and interesting so the activity is more popular than traditional indoor volleyball.

At Athletic Design Group, we have installed sand volleyball courts in Friendswood, Houston, Sugarland, The Woodlands, and Katy with great results. We have worked with schools, recreational centers, businesses, etc., in Spring, Tomball, Pearland, Cypress, and Richmond. If you want trustworthy volleyball court installation service, call us today.
Installing A Sand Volleyball Court
Installing a sand court requires careful planning because you need to create a platform that supports this material. For a good volleyball experience, a court's surface should be dry and the sand should be loose. As a well-trained sand volleyball court construction expert, we know this installation process like the back of our hand. Here's a glimpse at what you can expect from us:
Planning - The first step is to determine court dimensions and location. Most clients build sand courts outdoors though experienced professionals can build it indoors if required. Our team examines the installation site and considers a client's requirements. We also take local regulations into account because authorities have set guidelines on competition-level or recreation court sizes.


Sand And Gravel - We will transport material to your construction site. Material quantity depends on the size of your court. Standard-sized courts require approximately 5,000 cubic feet of sand and 2,600 cubic feet of gravel. Our experts will choose good quality material to get the best results.


Equipment - A volleyball court needs some accessories before you can use it for regular play. These accessories include competition/beach/recreational style nets, stands, boundary markers, and pole safety pads. These pads are an essential component of any volleyball court as they make sure players aren't injured if they accidentally collide with poles.


Digging And Framing - You can't just pour sand over the unprepared ground and create a court. To ensure sand stays in place, we dig a court and remove excess earth. After the excavation is complete, our team installs a frame made from concrete, wood, or rubber to help maintain shape.


Drainage - Volleyball courts are exposed to rain so they should have a good drainage system. We install perforated pipes wrapped in landscaping fabric in the ground. This will collect all rainwater and direct it away from your court. Poles oran anchor system will be installed after the drainage is in place.


Substrate And Sand - We cover the excavated and leveled area with gravel before placing landscaping fabric over it. This acts as a barrier between gravel and the sand in the top layer. Once they've installed substrate, our team adds an even layer of sand.
The sand volleyball court is complete. We add finishing touches by installing your new net, safety pads, etc. Want to know more about our court installation services here at Athletic Design Group? Just give us a call at 281-456-2477 or contact us through our online form.
We Provide Services to the Following Cities, Towns and Surrounding Regions of TX: