Game Courts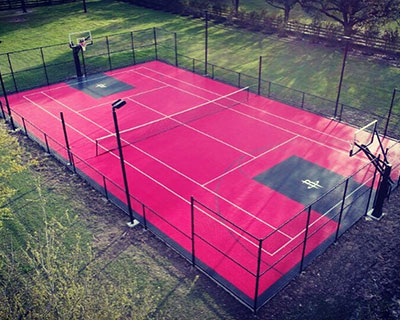 Game courts are versatile; they are designed to accommodate different kinds of games like basketball, tennis, volleyball, hockey, and much more. These features are a great alternative for traditional courts, especially on residential properties. At Athletic Design Group, we carry out expert game court installation in Friendswood, The Woodlands, Houston, Sugarland, and Katy.

We have also worked with clients in Spring, Pearland, Tomball, Richmond, and Cypress with great results. Our team knows how to create good game courts that will last for many years without problems.
What Are The Benefits of Game Courts?
Most clients don't have to install a dedicated tennis or basketball court on their property. They want versatility and flexibility, which is why they choose game court installation. These courts come in different sizes and custom designs to suit your purposes. For example, we can install a basketball net, draw tennis court lines on the surface, and install hockey or soccer nets, etc. A game court can be customized according to your requirements.
What Do You Need To Know About The Process?
Game court construction requires careful design and planning. Our experienced team has installed these systems several times in the part so we know how to get good results. Here's what you need to know about this project:
Games - You can play as many as 15 games in a medium-sized court. Shifting court arrangement from one to another game setting is easy and quick. You need to consider how many sports you play, the age of your children, and future. That information will help us create the best court possible.
Location - Courts can't be placed on sloping terrain without considerable preparation. We can't build them near large trees, over sewer lines, near wetlands, or over setback lines of your property. All of these factors will dictate where we can place this installation. Our team will examine your property carefully to before recommending a suitable location.
Surface Material - You can choose between concrete and asphalt. The former is more expensive, but it's very durable and will large for decades with little maintenance. Asphalt is more affordable but not as durable. It requires more maintenance because this material is susceptible to freeze and thaw.
Base - All courts require preparation. We will have to excavate some land, more earth around, level the ground, etc., to ensure your land can support a game court. The quality of your court base will determine the quality of its surface, which is why we make sure its foundation is solid.
Finishing - Both concrete and asphalt surfaces will need finishing so they provide some shock absorption. Gameplay on very hard surfaces can cause serious strain or injury to your body, especially the knees and hips. It's important to ensure court surface has some form of cushion. We will install a good quality surface and paint game patterns on it.
Want to know more about our game court building services here at Athletic Design Group? Just give us a call at 281-456-2477 or contact us through our online form.
We Provide Services to the Following Cities, Towns and Surrounding Regions of TX: